Estimated Reading Time: 4 minutes
Looking for the best and safest mobile casinos for Australians to play keno via apps or mobile Web browsers? Check out and install our recommended favourite, Royal Vegas, below.
Tap the 'Get the App" image on your Android, Apple, Windows or other mobile or tablet device to install the official Royal Vegas Casino App via your phone's native app store, 100% legal for Australian players.
As online gambling continues to rise in popularity, Web casinos are staying on top of new technologies to ensure their games are available over a range of platforms and devices. Keno has fast become an Internet gaming favourite, with players enjoying the simple and effective game layouts and the fact they can play for real money from the comfort of their own homes.
Online gambling venues are constantly adapting to keep up with mobile options so players have the freedom of playing real money casino games from their smartphones or tablets anywhere in the world, with pokies, blackjack, roulette and baccarat all commonly available for mobile play. Keno is slowly making its way onto the mobile circuit, too. As one of the last casino games to be adapted for play on the go, gaming developers are in the process of ensuring online keno is perfectly optimised for flawless gameplay as it makes its way into the mobile and app market.
Real money keno for apps and mobiles
Although the widespread use of mobile Keno is still in the works, there are a few ways that players can play Keno from mobile devices. The most common method is by accessing your preferred mobile casino via your device's Web browser (Google Chrome, Apple's Safari, or the regular Internet browser), logging into your account and loading a game of keno through Instant Play, just as you would on your computer. For those looking for a more dedicated app to play keno, here are the ways you can do so:
Web-based apps for mobile keno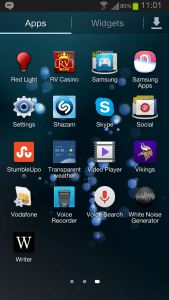 Most mobile users are unaware of the concept of Web or browser apps, with online casino players missing out on a world of possibilities that lie right at their fingertips. Web apps work in the same fashion as native apps, which are the apps we're all used to using, the ones we download from our smartphone or tablet app stores.
Web apps essentially allow users to create an app from any website direct to their mobile device using a standard web browser and a secure Internet connection. Follow the simple steps below, bringing the entire inventory of the online casino direct to your mobile device for instant keno play.
To create a Web app simply head to one of our recommended online casinos from your mobile device like Royal Vegas, Guts, Thrills, Emu Casino, 7 Sultans, Casino Mate or G'Day Casino and from there bring up your in-browser settings as follows:
• Apple Devices – locate the 'action' button which is the circular arrow symbol or square with upwards arrow symbol, directly above the home button of the phone and select 'add to home screen'
• Android Devices – these vary but generally consist of accessing the in-browser settings by clicking the circular arrow symbol in the URL field and scrolling down to select the 'add to home screen' option
• Other Mobile Devices – the way you access in-browser settings will vary between devices but all you need to do is locate this option in your device and select the 'add to home screen' option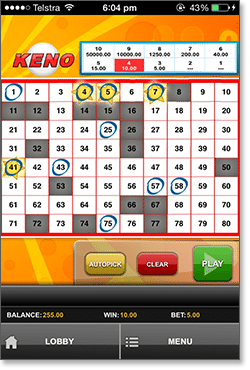 Once you've done this, the selected online casino will now appear on your home screen with an icon for instant access, just like a standard native app. You can now click on this app for instant play of all your casino favourites including keno, pokies, blackjack, roulette and baccarat.
Currently, the best place for Australia's to play mobile Keno using real money wagers is at Thrills Mobile Casino which maintains the high graphic quality and impressive design online keno is renowned for.
Play'n Go's Keno3
Keno3, the chief real money mobile keno game on the market for Australians right now, is an addictive and entertaining traditional 80-numbered lottery game with 20 drawn each round, where we can choose up to 10 numbers and win up to 10,000:1 if all 10 of our numbers hit. Minimum wagers per round are $5.
Royal Vegas Casino Mobile App

Royal Vegas Casino is currently the only one of our recommended mobile casinos that offer a native app and it's available to iPhone and Android users only. This fabulous app can be downloaded for free, eliminates all advertisements and offers a range of great promotional bonuses. While Keno is yet to be fully optimised for mobile play, the RVC app has a long list of video poker games, online slots (including progressive jackpot pokies), Blackjack and Roulette.

As a member of the Fortune Lounge Group, one of the most reputable online gaming groups, Royal Vegas Casino is fully licensed, legal and provides the perfect platform for Australian gamers to play their favourite casino games on the go for free or real money wagers.
Note: The app is titled 'Regal Vegas Casino' for brand purposes on Apple's App Store and Google's Play Store. This is indeed the correct app to download – once installed, players gain access to two interfaces: free play mode and real money mode, which can be switched between at will.
The future of mobile keno
If the development and expansion of other popular mobile casino games is anything to go by, the future looks incredibly bright for mobile and app based Keno. Our trusted online casinos withhold solid reputations for producing games of the highest quality, with software developers ensuring keno is optimised for ultimate mobile play, as displayed in Thrills Casino's Keno3, and as it makes it way in to the Australian market.
Virtual Keno offers players so much more than brick and mortar casinos, with a range of different themed games that you simply can't find in real life. Online keno games are incredibly diverse, following themes like movies, sports, music and certain eras, ensuring something for all tastes, whether you are a recreational player or a high roller. While limited keno apps are available on secure sites we know and trust such as Thrills.com, make sure to also take a look at online keno games via desktop computers and tablets, where a greater number of titles are offered.