Estimated Reading Time: 4 minutes
From the exciting world of keno comes a variant many players may not even be aware of; Four Card Keno. This keno variation is a classic casino game that's only recently started to grow in online popularity, so its appearance on leading virtual casinos is still currently few and far between. Its similarities with classic Keno and the ultra-simple playing format means we expect to see much greater widespread use of Four Card Keno as players become familiar with this game and leading gaming developers follow suit.
The similarities with Four Card Keno and classic Keno are vast, with the obvious difference being that four cards are played at once, unlike classic kno which utilises one card at a time. With several cards being played at the one time, this means your chances of taking in a real money win are increased considerably.
Best online Keno websites
Casino
Bonus
Games
Pokies
Signup
How to Play Four Card Keno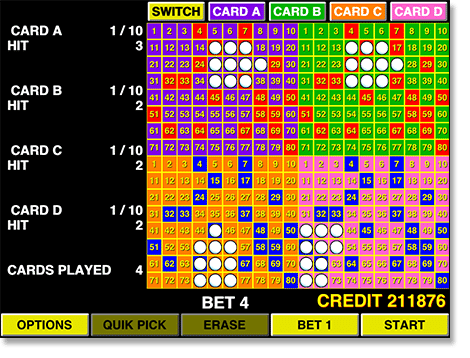 Like regular online Keno, the card (or screen) is made up of a grid numbered from one to 80. Players place a bet on the possibility of certain number being drawn. Most cards will allow you to choose up to at least 15 numbers, while in some cases, you can select as many as 20. Keno is the ultimate game of luck, with no precise strategies to put in place beyond picking your favourite or lucky numbers.
Except in the case of playing a live dealer keno game, online keno utilises Random Number Generator (RNG) software to draw the numbers. The computer randomly draws 20 numbers, which are matched to the numbers on your keno card. A win is based on the amount of real money you bet and the amount of numbers you matched, according to a specific keno payable for that game.
In Four Card Keno, the screen is divided into four separate cards. Click on each individual card to place your bet on the appearance of however many lucky numbers you wish to choose.
How Many Keno Numbers Should I Pick?
The games will cost the same whether you bet on two numbers or ten, so it is recommended to select more than 10 on each card. Choosing around 12 numbers will usually give you one of the better returns in terms of the applicable paytable. You can either select the same numbers on each card, or change it up by betting on entirely different numbers spread over all four.
By clicking the start button (or play button, depending on the version of online Four Card Keno you are playing) the computer will draw 20 random numbers. These 20 numbers apply to all four cards in play. The game will automatically recognise any wins and will reward you based on the paytable of the game, usually listed on the side of the screen.
Ultimately, there is no differences between Four Card Keno and classic keno, other than the fact four cards are played at once instead of the usual one, thus increasing your chances of matching your numbers.
Four Card Keno Strategies
Keno is a game of chance. While players can't necessarily utilise strategies to enhance their keno skills or alter the potential outcome of the game, there are basic strategies suggested towards taking in a Four Card Keno win.
The most important strategy is to bet on the amount of numbers that will give you the most efficient return rate. Often, this doesn't mean to simply to bet on the maximum amount of numbers allowed, but to carefully see how the payable changes in accordance with how many numbers you choose.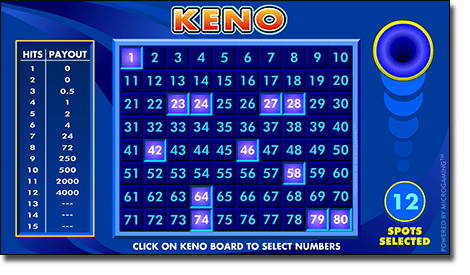 For example, if a game allows you to select a maximum of 15 numbers, typically around 12 numbers will give you the best return spread. While hitting all 12 numbers may pay 4000:1, as opposed to picking 15 numbers and hitting all which might pay 10,000:1, the chance of either of those scenarios happening is slim to none. It is thus smarter play to aim for the highest payout for catching around seven numbers, which would be an ideal result – selecting 12 numbers might give a return of 24:1 for catching seven of those, while selecting 15 might only give a return of 7:1 for catching seven.
Fiddle around with choosing numbers and see how the pay scale changes in order to choose what you think is the best amount of numbers to pick. Obviously, the more numbers you match, the higher your prize. In Four Card Keno specifically, players will usually benefit most from betting ten numbers on each card. All keno players should be mindful of the fact that each ball has a one in 80 chance of being drawn; plain and simple.
Why and Where to Play Four Card Keno
Four Card Keno maintains everything we know and love about classic Keno, only the excitement and winning potential is enhanced four-fold as multiple games are played simultaneously. It's a great game of luck and is fun to try out different number combinations, or simply play your tried and tested lucky numbers over all cards to see if your wins increase. It's classic keno on steroids.
Four Card Keno is yet to make its way into our favourite trusted online casinos, but with its popularity rising in the online keno community, it's only a matter of time before this becomes a well-known game at our recommended sites. Until then, play a range of keno variations for real money wagers at secure venues like Royal Vegas Casino, All Slots, G'day Casino, Casino-Mate and Guts Casino, with deposits and withdrawals payable in Australian dollars.