Estimated Reading Time: 6 minutes
If you're a fan of land-based keno, then the Northern Territory is the place to play it. NT Keno is run by SKYCITY Darwin (the only casino in Darwin) and you can find it in over 70 venues in the Northern Territory.
Best online Keno websites
Casino
Bonus
Games
Pokies
Signup
What's more, NT Keno is the only operator to host live ball keno instead of using random number generator software, which is perhaps why you might be more inclined to play at a land-based venue than online. However, if you can't make it to the Northern Territory then we recommend heading to our secure keno sites online to play fair RNG keno.
Where to play NT Keno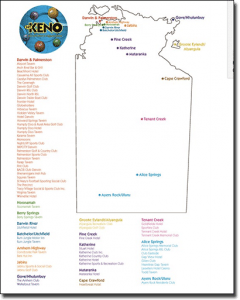 SKYCITY Darwin operates NT Keno live under an agreement with the Northern Territory Government. There are over 70 venues, such as pubs, clubs, and taverns, which televise NT Keno across the Territory including the following locations:
Alice Springs
Alice Springs RSL Club – 20 Schwarz Cres, Alice Springs 0870
Gap View Hotel – 123 Gap Rd, Alice Springs 0870
Gillen Club – 57 Milner Rd, Gillen 0870
Club Eastside – 28 Undoolya Rd, East Side 0870
Lasseters Hotel Casino – 93 Barrett Dr, Alice Springs 0870
Todd Tavern – 1 Todd St, Alice Springs 0870
Heavitree Gap Tavern – 1 Palm Circuit, Alice Springs 0870
Arnhem Highway
Coroboree Park Tavern – Marrakai NT 0822
Bark Hut Inn – Arnhem Highway, Annaburroo, Mary River ( Arnhem Highway) 0886
Ayers Rock / Uluru
Ayers Rock Residents Club – Ayers Rock Resort Yulara 0872
Batchelor (Litchfield)
Darwin River Tavern – 365 Darwin River Rd, Darwin River 0841
Rum Jungle Tavern – 5 Nurndina St, Batchelor 0845
Berry Springs
Berry Springs Tavern – 795 Cox Peninsula Rd, Berry Springs 0838
Cape Crawford
Heartbreak Hotel – Cnr of Carpentaria and Tablelands Highways, McArthur 0852
Darwin & Palmerston
Airport Tavern – 227 McMillans Rd, Jingili NT 0810
Arch Rivals Bar and Grill -11 University Ave, Palmerston City 0830
Beachfront Hotel – 342 Casuarina Dr, Rapid Creek NT 0810
Casuarina All Sports Club – Casuarina Square Medical & Dental, 269 Trower Rd, Casuarina 0810
The Cavenagh – 12 Cavenagh St, Darwin City NT 0800
Cazalys Palmerston Club – 10 Temple Terrace, Palmerston City 0830
Darwin Golf Club – Links Rd, Marrara 0812
Darwin RSL Club – 27 Cavenagh St, Darwin City 0800
Darwin North RSL – 20 Batten Rd, Marrara 0812
Darwin Trailer Boat Club – 8 Atkins Dr, Fannie Bay 0820
Frontier Hotel – 3 Buffalo Ct, Darwin City 0801
Globetrotters – 97 Mitchell St, Darwin City 0800
Hibiscus Tavern – Hibiscus Shopping Centre, 8 Leanyer Dr, Leanyer 0812
Hidden Valley Tavern – 644 Stuart Hwy, Berrimah 0828
Hotel Darwin – 39 Mitchell Street Darwin 0800
Howard Springs Tavern – 280 Whitewood Rd, Howard Springs 0835
Humpty Doo & Rural Area Golf Club – 565 Pioneer Dr, Humpty Doo 0836
Humpty Doo Hotel – Arnhem Hwy, Humpty Doo 0836
Humpty Doo Tavern – Humpty Doo Shopping Centre Corner of Freds Pass Road and Challoner Circuit, Humpty Doo 0836
Karama Tavern – Karama Shopping Plaza, Kalymnos Dr, Karama 0812
Lizards Bar & Restaurant – 105 Mitchell St, Darwin City 0800
Monsoons – 46 Mitchell St, Darwin City 0800
Nightcliff Sports Club -11 Camphor St, Nightcliff 0810
SKYCITY Darwin – Gilruth Ave, Darwin City 0820
Palmerston Golf & Country Club – Dwyer Circuit, Driver 0830
Palmerston Sports Club – 3 Maluka St, Gunn 0830
Palmerston Tavern – 1110 Chung Wah Terrace, Palmerston City 0830
Parap Tavern – 15 Parap Rd, Parap 0820
Pint Club – 165 Abala Rd, Marrara 0812
RAOB Club (Buff Club) – 57 Stuart Hwy, Stuart Park 0820
Shenannigans Irish Pub – 69 Mitchell St, Darwin City 0800
The Precinct – 7 Kitchener Drive, Darwin City 0800
Tracy Village Social & Sports Club – 28 Tambling Terrace, Lyons 0810
Virginia Tavern – 30 Virginia Rd, Virginia 0835
Winnellie Hotel – : 34 Winnellie Rd, Winnellie 0820
Darwin River
Litchfield Pub – 365 Darwin River Rd, Darwin River 0841
Gove/Nhulunbuy
The Arnhem Club -1 Franklyn St, Nhulunbuy 0880
Walkabout Tavern – 12 Westal St, Nhulunbuy 0880
Groote Eylandt/ Alyangula
Alyangula Golf Club – 1 Alebuwa St, Alyangula 0885
Alyangula Recreation Club – 1 Bougainvillea Dr, Alyangula 0885
Jabiru
Jabiru Golf Club – Jabiru Dr, Jabiru 0886
Jabiru Sports & Social Club – Lakeside Dr, Jabiru 0886
Katherine
Stuart Hotel – 23 Katherine Terrace, Katherine 0850
Katherine Club – 19 O'Shea Terrace, Katherine 0850
Katherine Country Club – Pearce St, Katherine 0850
Noonamah
Noonamah Tavern – 1801 Stuart Hwy, Noonamah NT 0837
Pine Creek
Pine Creek Hotel – 40 Moule St, Pine Creek, Northern Territory 0847
Lazy Lizard Caravan Park – 299 Millar Terrace, Pine Creek NT 0847
Tennant Creek
Goldfields Hotel Motel – 113 Paterson St, Tennant Creek 0860
Sporties Club -112 Ambrose St, Tennant Creek 0860
Tennant Creek Memorial Club – 48 Schmidt St, Tennant Creek 0860
How to play NT Keno

NT Keno is simple to play. Simply head to a venue which hosts the game and pick up a form to fill out.
There are a total of 80 numbers and players can choose from one to 10, 15, 20, or a maximum of 40 numbers you think will be drawn for the standard games.
To determine your choices put an 'x' through each 'spot' (number) and then pick how many games you want to play and how much you wish to wager on each game. If you can't pick the numbers yourself, you can opt for QuickPick where the numbers will be randomly selected for you.
The minimum amount you can play for one game is $1, irrespective of the amount of numbers you choose.
Once you have the form filled out you need to hand it into the keno operator or bar attendant who will put your numbers through and you then simply wait for the results.
The numbers are drawn live by a human dealer instead of RNG software determining the results. This is why many people love NT Keno, even though RNG software is incredibly fair when opting for reputable software providers, such as the many we recommend for online keno.
There's also Jackpot Games, where a total prize pool continues to grow until it is won. Here, players pick six (jackpot starts at $1225), seven (jackpot starts at $5100), eight (jackpot starts at $15,000), nine (jackpot starts at $100,000), or 10 (jackpot starts at $1,000,000) spot jackpot games.
This is compared to the maximum payout possible of $200,000 for the standard games – with the number of spots you've picked and gotten correct and how much you have wagered determining your payout.
Superplays: Players can opt for automated numbers, similarly to QuickPick, but with more ways to win. There are 10 Superplay options to pick from with the maximum costing $15 where you get 15 chances to win all spots from one to 10 on the one ticket, including all jackpot games too. Visit the SKYCITY Casino website for more information on Superplays.
Heads or Tails: You can also play Heads or Tails, which is generally located on the back of the form or on a separate form – or you can tell your operator too. You simply pick whether 11 or more numbers will be drawn in the top half for Heads, or 11 or more numbers will be drawn in the bottom half for Tails. You can also opt for Even, where 10 numbers are evenly drawn in the top and bottom grid. The maximum bet per game is $500 for Heads or Tails.
Unfortunately, you can't get results online or watch NT Keno live on your device like you can for keno in NSW and QLD, so you will need to get your ticket checked by an operator to find out if you've won or not if you aren't watching at a participating venue.
Online keno options for NT residents
While NT Keno does have the edge of being drawn live, you may not be able to make it to a venue.
Fortunately there's the option to play live dealer keno online, at one of our favourite online casinos www.GdayCasino.com. Powered by Ezugi, players can pick their numbers via the electronic layout, while a human dealer draws the numbers from a ball barrel. There are also a number of standard RNG keno titles available here too.
If you don't mind playing RNG keno, which offers players the chance to play at their own pace and provides a better house edge than land-based venues, then we recommend the following sites:
Emu Casino – With around seven keno variants, Emu Casino is the best place for unique variants from top software developers such as Microgaming and 1×2 Gaming
Guts Casino – If you are after standard keno, Guts offers a great version, as well as a progressive variant with a pooled jackpot
All Slots Casino – Microgaming's popular traditional keno title is available here and is a great option for players after standard gameplay