Estimated Reading Time: 4 minutes

Want to buy tickets to your favourite Australian lottery draws over the Internet? OzLotteries.com is the place for you – we review this online lottery retailer and explain how to buy online lotto tickets for the chance to become an instant millionaire without having to make a trip to your local newsagency or lotto retailer.
What is OzLotteries?
OzLotteries is an authorised online retailer that is fully accredited to sell tickets to major Australian lotteries and charity lotteries over the Internet. The ASX listed company runs under strict government supervision and is licensed to sell lottery services provided by Tatts Group, NSW Lotteries, SA Lotteries and a range of charity organisations including Surf Life Saving Lotteries, Endeavour Prize Home Lottery, Act For Kids Platinum Class Lottery, and Prince of Wales Hospital Foundation Art Union.
OzLotteries is available to use on desktop and mobile, with downloadable apps available for iOS and Android smartphones and tablets.
Who can play at Oz Lotteries?
OzLotteries is available worldwide to players over the age of 18 or older depending on the minimum legal gambling age in your country. Despite only selling tickets to Australian lottery draws, you don't have to be an Australian citizen to buy lotto tickets from OzLotteries, as the company works as a purchasing agent on behalf of its members. All players at OzLotteries are required to verify their identity and age and may also be required to provide verification of their Internet Protocol (IP) address.
Aussie players have access to different lottery draws depending on what state you're playing from – you can use the dropdown location menu on the OzLotteries homepage to switch to your state and see what lotteries are open to you. Players from Queensland can only participate in charity lotteries as OzLotteries is not authorised to sell commercial lottery tickets in QLD.
What keno games are available?
Unfortunately, OzLotteries does not currently offer any online keno services. This website sells tickets to Australian lottery draws only. If you would like to bet on keno online, check out our recommended keno sites, Planet Lottery or LottoLand where you can place real money wagers on the outcomes of various keno draws from around the world.
What online lottery tickets are available?

Members at OzLotteries can buy online lottery tickets to these major national lotto draws:
OzLotto
Poweball
TattsLotto
Friday Lotto
Saturday Lotto
Mon & Wed Lotto
The Pools
Lucky Lotteries Super Jackpot
Lucky Lotteries Mega Jackpot
Lotto Strike
There are also several charity lotteries you can buy tickets to at OzLotteries, with major prizes including luxury homes, premium cars, holidays and cash:
Surf Life Saving Lotteries
Endeavour Foundation Prize Home Lottery
Master Prize Home Lottery
Act for Kids Lottery
Prince of Wales Hospital Foundation Lottery
Kidney Health Australia
For a full list of the lotteries currently available to participate in, head to OzLotteries.com and click on the 'Lotto Games' tab for full information about all the prize packages up for grabs and the entry cost to each draw.
How to buy lotto tickets online at OzLotteries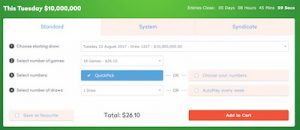 Purchasing online lotto tickets at Oz Lotteries is a simple process. You can either create and log in to your account first before following the steps below, or create an account once your lottery tickets have been added to your online shopping cart. Here's how to buy tickets with OzLotteries:
From the homepage, click to choose the lottery game you wish to play or hit the 'Buy Lotto Tickets' button
Choose from the ticket options available, including the starting draw, number of games, number of draws and select your lucky numbers
Follow the prompts to complete the checkout process and purchase your tickets
Information about your tickets will be sent directly to your account, and you will receive an email notification verifying your purchase. You can log in at any time after the draw has taken place to view the results, and OzLotteries will always notify you directly if you are a winner.
Do tickets cost the same as in real life?
Buying lottery tickets online at OzLotteries is a little more expensive than buying tickets from your local newsagency. The minimal extra price covers the cost of providing a secure Internet based purchasing system with all the perks that OzLotteries offers. Non-Australian players are also subject to an international pricing structure. The full cost for all lottery tickets relevant to the player are clearly displayed when buying your tickets.
Secure payment methods
All lottery ticket sales at OzLotteries are processed using Australian dollars (AUD). Payments can be made using any of these trusted banking methods:
Visa
MasterCard
POLi (Australian players only)
PayPal (Australian players only)
Deposits are processed via company name TMS Global Services Pty Ltd and will show up on your bank account or credit card statement as OZLOTTERIES or similar. There are no processing fees or membership costs to use OzLotteries, but be aware that some banks charge cash advance fees for any credit card transactions used for lottery services. You will need to check with your relevant financial institution to see if any fees apply to you.
Is it safe to play online keno at OzLotteries?
Yes, OzLotteries is a government licensed and accredited venue, and is fully protected by SSL (secure socket layer) digital encryption security to protect all online transactions. Customer support is available via live chat, email contact form, snail mail, fax or phone, with the support line open from 8:30AM to 7:30PM AEST Monday to Saturday.
Is it worth buying lotto tickets with Oz Lotteries?
If you want to enjoy the convenience of buying lotto tickets online instead of trying to remember to grab them on your way past the newsagency, OzLotteries provides a great service. The cost is a fraction higher, but there are some additional benefits you won't get from traditional retail purchasing. OzLotteries allows you to buy lotto tickets 24/7, giving you the option of saving your favourite numbers and games while providing access to the latest lotto results and valuable statistics.