Estimated Reading Time: 6 minutes
South Aussies love their keno, with many punters who wouldn't normally frequent a land based casino still enjoying the thrill of a quick keno game. If you live in Adelaide or frequent the Festival State, read on to find out what keno games are available, where you can play in the City of Churches, and the best keno sites available online.
Best online Keno websites
Casino
Bonus
Games
Pokies
Signup
Where to play keno in South Australia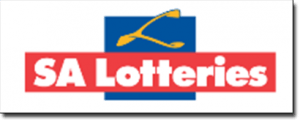 Keno in South Australia is run by the SA Lotteries commission, a government organisation which appointed the Tatts Group to oversee its keno offerings. With a new game happening every 3.5 minutes you never have to wait long to join in on this game of luck.
SA Lotteries has over 590 outlets throughout South Australia. Keno games can be played in newsagencies, petrol stations, pharmacies, pubs, RSL's and selected TAB venues throughout the state.
Adelaide
Adelaide Casino (formerly Skycity) – North Terrace, Adelaide
Arab Steed Hotel – 241 Hutt Street, Adelaide
Bunker Sports Bar & Grill – 21 Pulteney Street, Adelaide
Duke Of Bruick Hotel – Level 1 207 Gilbert Street, Adelaide
Elephant & Castle Hotel – 179 West Terrace, Adelaide
Gawler Place TAB – Pirie Plaza 63 Pirie Street, Adelaide
Hindley Street TAB – 9-11 Hindley Street, Adelaide
Hutt Street TAB – 185 Hutt Street, Adelaide
North Adelaide TAB – 132 O'Connell Street, North Adelaide
Richmond Hotel – 144 Rundle Mall, Adelaide
Rob Roy Hotel – 106 Halifax Street, Adelaide
Rosemont Hotel – 156 A Hindley Street, Adelaide
Talbot Hotel – 104 Gouger Street, Adelaide
Wellington Hotel – 36 Wellington Square, North Adelaide
Port Adelaide
First Commercial Inn – 29 Commercial Road, Port Adelaide
Port Adelaide TAB – 164 Commercial Road, Port Adelaide
Portland Hotel – 286 Commercial Road, Port Adelaide
Mount Gambier
Commercial Hotel – 76 Commercial St West, Mount Gambier
Federal Hotel – 112 Commercial Street East, Mount Gambier
Jens Town Hall Hotel – 40 Commercial Street East, Mount Gambier
Mt Gambier West TAB – 167 Commercial Street, Mount Gambier
Park Hotel – 163 Commercial Street, Mount Gambier
South n Hotel – 8 Commercial St E, Mount Gambier
South Eastern Hotel – 235 Commercial Street, Mount Gambier
South Gambier Football Club – Blue Lake Sports Park, Mount Gambier
Mount Gambier – Western Tavern – 178 Jubilee Highway, West Mount Gambier
Port Lincoln
Boston Hotel – 19 – 21 King Street, Port Lincoln
Grand Tasman Hotel – 94 Tasman Terrace, Port Lincoln
Great Northern Hotel – 34 Hallett Place, Port Lincoln
Pier Hotel – 33 Tasman Terrace, Port Lincoln
Port Lincoln Hotel – 1 Lincoln Highway, Port Lincoln
Salisbury
Old Spot Hotel – 1955 Main North Road, Salisbury Heights
Salisbury North Football Club – 39-41 Bagster Road, Salisbury North
Eureka Tavern – 10 Park Terrace, Salisbury
Salisbury Hotel – 52 Commercial Road, Salisbury
Salisbury TAB – 95 John Street, Salisbury
Stockade Tavern – 2 Gawler Street, Salisbury
Glenelg
Glenelg North TAB – 615 Anzac Highway, Glenelg North
North Watermark Hotel – 631 Anzac Highway, Glenelg North
South Bay Hotel – 58 Broadway, Glenelg South
Broadway Hotel – 61 The Broadway, Glenelg South
Glenelg South TAB – 91 Brighton Road, Glenelg South
Glenelg Jetty Hotel – 28 Jetty Rd, Glenelg
Holdfast Hotel – 81 Brighton Road, Glenelg
Gawler
Criterion Tavern – 18 Nineteenth Street, Gawler South
Gawler TAB – 32 Murray Street, Gawler
Whyalla
Sundowner Hotel – Lincoln Highway, Whyalla Norrie, Playford
New Whyalla Hotel – 10 Gowrie Avenue, Whyalla Playford
Eyre Hotel – 37 Playford Avenue, Whyalla
Spencer Hotel – 1 Forsyth Street, Whyalla
Westland Hotel – 100 McDouall Stuart Avenue, Whyalla
Murray Bridge
Bridgeport Hotel – 2 Bridge Street, Murray Bridge
Murray Bridge Hotel – 20 Sixth Street, Murray Bridge
Swanport Hotel – 3166 Jervois Road, Murray Bridge
Mount Barker
Barker Hotel – 22 Gawler Street, Mount Barker
Gray's Inn – 63 Gawler Street, Mount Barker
Port Pirie
Risdon Hotel – 22 Moppett Road, Port Pirie West
Pt Pirie Central Hotel – 30 Alexander Street, Port Pirie
Port Augusta
Ian's Western Hotel – 10 Loudon Road, Port Augusta West
Central Augusta Football & Community Sporting Club – 3 Hannagan Street, Port AugustaPastoral Hotel – 17 Stirling Road, Port Augusta
Sky Tavern – 4 Tassie Street, Port Augusta
Victor Harbor
Grosvenor Hotel – 44 Ocean Street, Victor Harbor
Hotel Crown – 2 Ocean Street, Victor Harbor
Goolwa
Corio Hotel – Railway Terrace, Goolwa
Goolwa Hotel – 7 Cadell Street, Goolwa
West Lakes
Bartley Tavern – Bartley Terrace, West Lakes
Checkside Tavern – Turner Drive, West Lakes
Lakes Resort Hotel – 141 Brebner Drive, West Lakes
Prospect
Nailsworth TAB – 126A Main North Road, Prospect
Reepham Hotel – 273 Churchill Road, Prospect
Windmill Hotel – 94 Main North Road, Prospect
Norwood
Britannia Hotel – 1 Kensington Road, Norwood
New Alma Hotel – 66 Magill Road, Norwood
Norwood TAB – 115 The Parade, Norwood
Millicent
Grand Hotel55 – George Street, Millicent
Somerset Hotel – 2-4 George Street, Millicent
Sportsman's Hotel – 72 George Street, Millicent
How to play keno in South Australia
Keno is a number based game relying purely on luck. There's no particular strategy or skill required to play, which is what makes it so popular with recreational players hoping to strike it rich.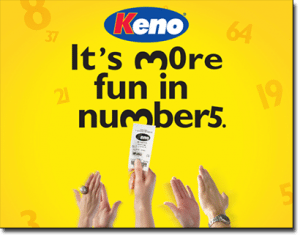 In SA Lotteries keno, players purchase a keno ticket and select up to 10 numbers from a possible pool of 80. You can select as little as one number (called a "spot") or as many as 10, with the more spots you choose giving you a higher chance to win the million-dollar prize.
20 numbers are then randomly drawn to constitute the winning numbers of the game and the more winning numbers you predicted, the higher your winnings. In order to win the million-dollar jackpot, 10 spots must be selected and you must match all 10 numbers from the 20 numbers drawn.
SA Keno games can be played from as little as $1. You can choose to as few as one single draw or as many as 500 consecutive draws.
There are three options available when playing SA Lotteries keno:
1. Purchase a keno coupon and manually mark down your chosen numbers
2. Buy a QuickPick coupon which automatically selects numbers for you
3. Register for an Easiplay Club Card so you can play with favourite stored numbers
Keno Coin Toss – you also have the option of playing the Keno Coin Toss, either by marking it on your keno coupon or purchasing the single Keno Coin Toss ticket. In this mini game you choose between heads, tails or evens which means you are betting that either:
– the majority of the 20 keno numbers drawn will be between 1 and 40 (heads)
– the majority of the 20 keno numbers drawn will be between 41 and 80 (tails)
– the 20 keno numbers drawn will be evenly spread between heads and tails (evens)
The Coin Toss pays double your bet for any heads or tails win, or four times your bet for any correct guess on evens. You can choose to bet between $1 and $100 per Keno Coin Toss game.
What about online keno sites for SA?
While SA Lotteries doesn't run its own online keno site, there are many Aussie-friendly casinos which allow South Australians to play keno online for real money. Playing online keno at online casinos is ideal for those who want to enjoy the thrills of this luck based game and potentially bring in some big bucks, but without all the fuss and hassle of heading to a pub, TAB or newsagency. There's no standing in line, no putting up with the stench of stale beer and no need to even leave the house.
We recommend the following real money keno sites for SA players:
Games at these casinos are powered by RNG (random number generator) technology just like the keno games hosted by SA Lotteries. All you need to do is sign up for an account, make a deposit using a range of safe payment options in AUD, select your keno numbers and watch the results unfold before your eyes.
G'day Casino also offers a live dealer keno game, which is a game hosted in real time by a real human and streamed to your computer via high-def video. This is a great option for those who prefer to be able to watch the keno numbers being drawn rather than relying on computerised software.
Can I play keno on my mobile?
The casinos recommended above also offer the option for mobile play, catering to both Apple iOS and Android operating platforms so games can be played on a wide range of smartphone and tablet makes and models. The mobile casinos only offer a condensed version of the games available at the full desktop sites, and unfortunately keno hasn't yet been optimised at any of these venues for mobile play, but with the mobile technology expanding rapidly, check back regularly as it won't be long before keno can be played on the go at these portable sites.
Want to give keno a try online? Head to G'day Casino using our links and you'll receive a 100% matched deposit bonus upon making your first deposit, plus a free slab of beer.