Estimated Reading Time: 4 minutes
Keno is a luck-based game. An individual player has no control over what numbers will be drawn, which is really why keno can be so much fun.
But while you can't better the chances of your numbers being drawn, there are some basic Keno strategies you can employ to maximise your opportunities to win. These are our tips for getting the most from a game of keno.
Best keno sites
Casino
Bonus
Games
Pokies
Signup
Play keno online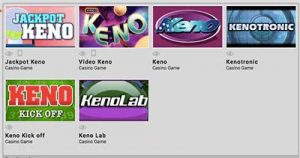 Games of keno may be equally random, but not all keno games are equally rewarding. Each keno game owns a different payout structure and some are more generous than others. Typically, online casinos are able to offer better payout rates for their games than land-based casinos, because their running costs are much lower.
This rule applies to keno games, too. You'll find more generous paytables (pay scales) when you play keno on the Internet, as opposed to at an offline gambling establishment. Each site we endorse displays the individual payout structure for their specific keno game which you should double check before selecting your numbers and placing your bets. The beauty of gambling online is you can easily shop around to find the keno game with the best payout structure for you – we've already done so for you below.
Online Keno strategy guides
Where to play keno on the Internet
If you'd like to put your keno skills to the test, these are the best online gaming sites to do so:
Emu Casino: With five different variations of online Keno, Emu has the most variants – and all new sign-ups can get $3 free to try their games before depositing in addition to the $300 matched deposit welcome bonus.
All Slots Casino: Powered by Microgaming, All Slots owns the classic Microgaming keno game with house edge of around six per cent. Recognised with the eCOGRA seal of approval for high fairness, security and safety standards, the site has secured means of processing all financial transactions. If you're a regular keno player, you will earn club loyalty points, redeemable for cash.

Finding the best keno pay scales subsequently gives you the best house edge. While the games run on RNG software, the total return works out to be around 94 per cent, which equates to a six per cent house edge. Although this is high, in keno, it is quite good as many land-based keno games hold house edges of anywhere between 20 and 35 per cent.

Microgaming's keno title holds a house edge of around six per cent, as well, so that is also a very good game of choice.

Obviously, the less numbers you select the higher the payout will be when you hit those numbers, however it is much harder to hit fewer numbers selected than choosing 15 or even 20 out of 80 numbers.

Know how to spot bad advice

Abiding by senseless gambling myths won't help your chances. An example of a nonsensical keno myth is believing because a number hasn't been drawn for a couple of rounds, it's due to be drawn. In reality, each round of keno is independent of one another and numbers are never 'due' to be drawn.

While this myth is false and quite ridiculous, going according to this strategy isn't really going to harm your chances, as you have the same hope of winning with any numbers you pick before the game commences.

Make sure not to gamble more than you're comfortable losing, especially if under the impression your betting on a sure thing – there's no such thing as a sure thing in a random game like keno. That's part of the fun of the game.

Take a look at our keno odds and payout articles, listed above, to find out more about casino house edge, pay scales, probabilities of hitting multiple catches, probabilities of hitting no catches and more.