Estimated Reading Time: 6 minutes
Keno is an entertaining game that doesn't require much concentration, making it perfect to play on the go on Android smartphones and tablets. Additionally, everything iPhones can do Androids can do better as they have access to Adobe Flash downloadable to their smartphones so playing keno on our Android smartphones might just be a lot easier than on an Apple device. Unfortunately, there is only one native app available for Aussie Android users.
Royal Vegas App for Android
Known as the Regal Vegas app in Google Play, Android users can download this app legally as Royal Vegas found a loophole in the Australian legislation. This is the only app available on the market for Australian players as the law prevents developers from creating apps that offer real money gambling. Royal Vegas managed to get around this by using marketing techniques.

Offering blackjack, slots, video poker and more, the app is a great on the go mobile casino. However, the app does not offer a keno title as it is powered solely by Microgaming and they do not have a mobile compatible keno title. Therefore, it is best to access keno games via your mobile browser on your Android smartphone if you are after a real money keno title.
You can do this by following our links to our recommended casinos in your mobile browser; however, some online casinos don't offer a keno title for Android devices just yet.
While this will allow Android players to play for real AUD money, players can't just yet play keno via an app for real cash. There are apps available, however, but we think it is more fun to play at our favourite online casinos.
Keno apps for Android smartphones
If you want to play a keno game via an app, you will have to settle for free play. While this may not be as thrilling as there is no chance of winning real money, it can be fun for players who have never played, or for those who want to practice before playing with real AUD money.
All you have to do is go to Google Play and type in the titles you want to try out, or simply just search for 'keno'. Android phones have quite big screens which are perfect to view results and one free app is especially great if you can't see the screen at the pub as it provides you with the results that is on the television screen at a land-based keno venue, though you can't play or make any bets via this app.
Tabcorp Keno App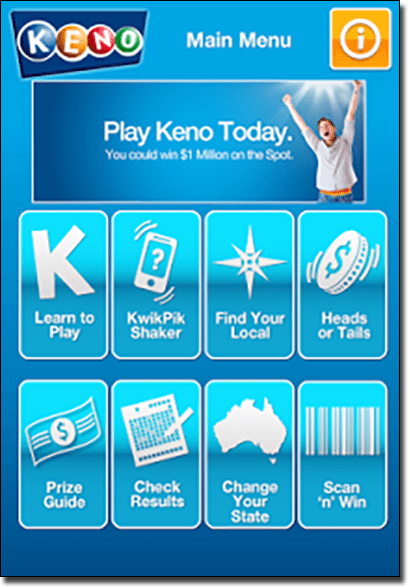 This keno app is compatible with Android phones and is basically your own personal keno screen mimicking those keno screens at pubs and clubs provided you are located in NSW and Vic. Additionally, you can learn to play with both the classic version and the heads and tails version available, featuring a virtual form available to fill out so you are learning how to play at a land-based venue rather than how to play the online variants.
You can't win any money, real or pretend, but it is great for those who have never played before. There is also a prize guide which details how many numbers you need to pick to potentially win a certain amount. If you can never pick your own numbers and struggle when filling out that form then you can choose the KwikPik Shaker where you enter how many numbers you want to pick, then shake your Android phone and your numbers will be revealed for you to use.
While you can't even play for free money with this app by Tabcorp Holdings, its a great option for those who want to socialise while playing a keno game at the pub or RSL as they won't have to focus on the screen to find out the results.
Casino keno for Android
This keno app available to download for free claims to be the most realistic on the Android market. However it's still free play – no real money involved. With standard game play and high definition animations this game is great to share on social media as you can challenge your Facebook friends, as well as share your results on your Facebook or Twitter newsfeed. Additionally, to add to the experience this app includes casino music in an attempt to create an authentic experience.
Video Keno Kingdom
Since Android players can't play for real money via apps, they need to get their fix somewhere. Keno enthusiasts have eight themes to choose from, and there are free tips which can actually help when you play with real AUD money as well as the ability to quick pick your numbers to see how they compare to when choosing your own fixed numbers. With HD graphics and the chance to compare your results with other players, Video Keno Kingdom is a fun free play app.
As fun as these free games can be in comparison to checking your boring work emails on your Android, we feel playing at online mobile casinos is much more thrilling as real money is involved. We recommend playing at our suggested online casinos for the best experience.
Where to play keno on Android smartphones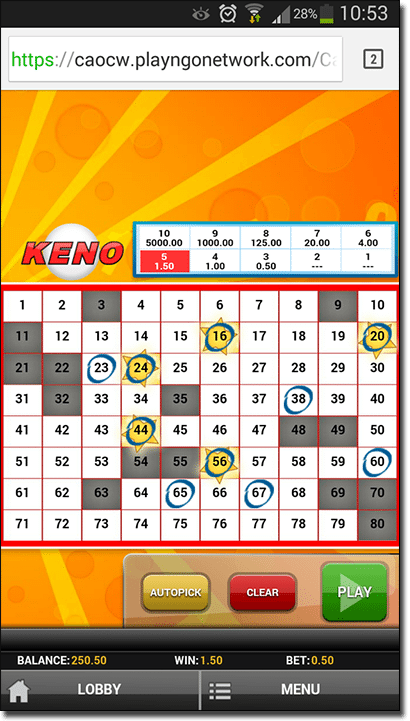 Unfortunately as keno isn't as popular as blackjack or slots, software providers haven't prioritised the game for Android smartphone compatibility. Therefore there aren't many places you can find a keno title on mobile online casinos. One of our favourite online casinos however does offer an Android compatible keno title as they utilise a large variety of software developers, including one specifically catered to creating mobile compatible titles.
Thrills Casino can be accessed by clicking on our link via Google Chrome or another Android Web browser such as Firefox. Located under 'Other Games' category is a title known simply as Keno. Tap on the icon and you will be able to play for fun or for real on your Android smartphone. Playing for real will require you to sign up and make a deposit but this doesn't take long and there are plenty of easy payment methods available for Aussies.
From here, you can play the Play'n Go keno title easily on your Android phone. For those who want more variety in there keno options or favour one of our other recommended online casinos more, Android users may just be in luck.
How to play Internet keno on your Android smartphone
Android smartphones can generally do everything a desktop computer can do, provided they have downloaded Flash from Google Play. This can be done by searching for the download in the app store or by going to the website directly. By having this installed onto your smartphone, Android players can now access all the casino titles available that desktop players can access, meaning Aussie Android users can play any keno variation a desktop Internet casino offers.
To do this, open Google Chrome after downloading flash and go to the online casino. We recommend going to our suggested online casinos as they are all reviewed regularly meaning they offer fair keno titles. From here, click the three vertical dots next to the toolbar and tap on 'Request desktop site'. The mobile casino compatible for Android smartphones will then convert back to the desktop version and you will be able to view and access the full catalogue of games, including all the keno titles available.
If you have downloaded flash, players can access all the keno titles available at our favourite online casinos. We recommend trying this process out with G'day online casino as it offers the most number of keno titles meaning you won't get bored of just one version.
Fund your account safely using your Android smartphone
Playing real AUD keno means you need to fund your account which can be easily and safely performed on your Android device. Depending on which option you are using as suggested above to play keno it might be best to fund your account via the mobile version first so you aren't scrolling through everything and zooming in to find the banking page. Tap on the cashier, click a payment method such as credit or debit, pre-paid services, bank transfers, or e-wallets and enter the amount you wish to deposit, then press confirm.
Depending on what method you have chosen and whether or not it has been accepted your funds will be processed accordingly. Now that you have funded your account you can play a title via the desktop version or the mobile version with both offering the same level of data encryption technology that ensures your personal details are locked in and safe.